A few kilometers from the beaches of fine golden sand, is the port of Canet en Roussillon, a haven of peace and security for navigation amateurs and boat enthusiasts.
Enjoy a wonderful experience, with great availability of all amenities, and security provided by a strong locked gate and night guards.
A unique modern design, used to accommodate 1300 boats up to 25m in size.
Ocean lovers from different parts of the world come to visit this port, for an unforgettable experience.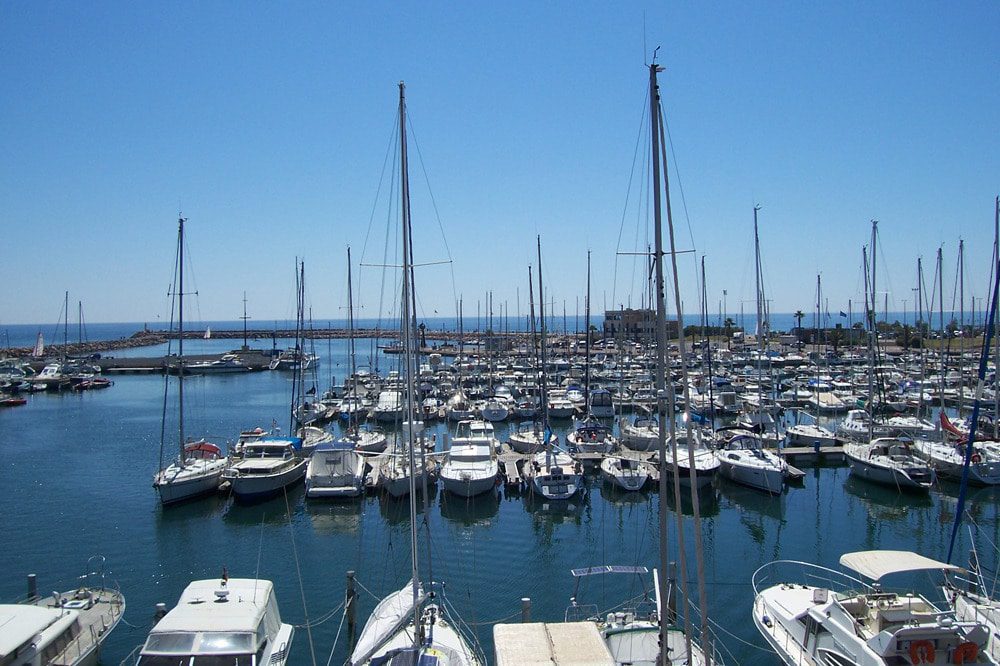 Port of Canet-en-Roussillon
The port of Canet-en-Rousillon, also known as Port de Canet, is located in the coastal village of the same name in southern France. The port of Canet-en-Roussillon is a well-established and popular port on a beautiful stretch of coastline, with 9 km of beaches on either side and many water sports available.
The location of this marina is part of the Languedoc-Roussillon region and is also identified as Caner de Rossello in Catalan. This seaside resort attracts a large number of visitors every year thanks to its beautiful beaches and rich cultural heritage.
In July and August, a water cab operates in the port, making it even easier to get around.
Tourists can visit old buildings and monuments such as the national church of Saint-Jacques, the castle of Esparrou, etc. Nature lovers will be delighted by the natural heritage that constitutes Canet-Saint-Nazaire. Jet-skiing is a very popular activity for tourists who want to experience amazing sensations on the Mediterranean coast.
Many natural landscapes can be admired here, at the foot of the mountains, and visitors who stay at one of the inns in the area, such as the Grand Hotel les Flamants Roses, will enjoy every moment of their stay.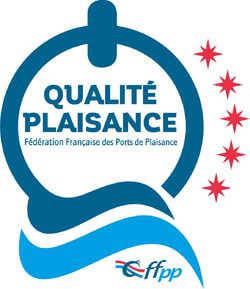 A few miles from the creeks, the Port of Canet en Roussillon offers, on 25ha of water, 1300 berths with all the services available to boaters in a modern marina. In 2019, the French Federation of Marinas will award it the "Qualité Plaisance *****" label. It is also part of the "Clean Ports" certification process and aims to obtain the "Active in Biodiversity" label through innovative environmental actions such as the installation of artificial nurseries to house post-larvae.
Pratical information
Coordinates
Latitude 42 42′ 12 "N
Longitude 03 02′ 36 "E
Water depths
Outer harbor: 4 m
Main basin, Honor and Corbières: 3 m
Marinas: 2.50 m
The dominant winds of the region are the TRAMONTANE (land wind) and the MARINADE (wind coming from the sea).
Beware of strong North-East winds: impassable.
Sailing distances
Balearic Islands
Spain
Cadaques – 40 M
Barcelona – 140 M
Languedoc Coast
Cap d'Agde – 35 M
La Grande Motte – 69 M
Port Camargue – 140 M
Rocky Coast
– Argelès – 11.50 M
– Port Vendres – 15 M
The aquarium Oniria of Canet-en-Roussillon
Not far from the port of Canet-en-Roussillon is the Aquarium Oniria of Canet-en-Roussillon. The Aquarium of Canet-en-Roussillon dates back to 1983 and was built on 700 m2 of an old fishery. The establishment hosted 1000 individuals of 350 exotic and Mediterranean species in 55 aquariums totaling 170 m3 of tank.
This dilapidated building no longer offers the inhabitants of Canet-en-Roussillon and its visiting clientele an experience on a par with the rest of the infrastructures that the city can offer. The choice was therefore made to build a new establishment capable of accommodating the many clients of the old aquarium and attracting new ones.
The new establishment named Oniria was then born. This building, 5 times larger than the old aquarium, now covers nearly 3,500 m2 and contains a total of more than 1,200,000 L of water. It is composed of 83 tanks that present to the public more than 3500 individuals of 660 different species that are grouped around 10 universes.

Light on ports photo contest
A photographic contest dedicated to amateur photographers.
This contest is organized at the initiative of the Association des ports de caractère, the Union des villes portuaires d'Occitanie and the Chambre de commerce et d'industrie des Pyrénées-Orientales. Its concept is to give amateur photographers the opportunity to present unique pictures highlighting the ports, the sea or the river of the Occitanie region. Many of you have taken beautiful pictures of our port. So why don't you participate?
The second edition of this competition has officially begun. This year's theme is:
"Between summer and winter season, between sea and river. Marinas, fishing harbors, commercial harbors… The Occitania region from a new angle."
To participate, entries may be submitted until June 30, 2022. One photo essay will be selected per port and submitted to the Port Captain's office or the designated yacht office. Among all these selected reports, the three winning reports have the privilege of being presented in addition to their exhibition at the OFF Perpignan festival from August 27 to September 10, 2022 (festival that takes place on the same dates as the international festival Visa pour l'Image).
A nearby hotel
The Best Western Hôtel Canet-Plage is located on the sea front. The sandy beach is only 1 minute walk away. Many beach clubs in partnership will be happy to welcome you under the Catalan sun.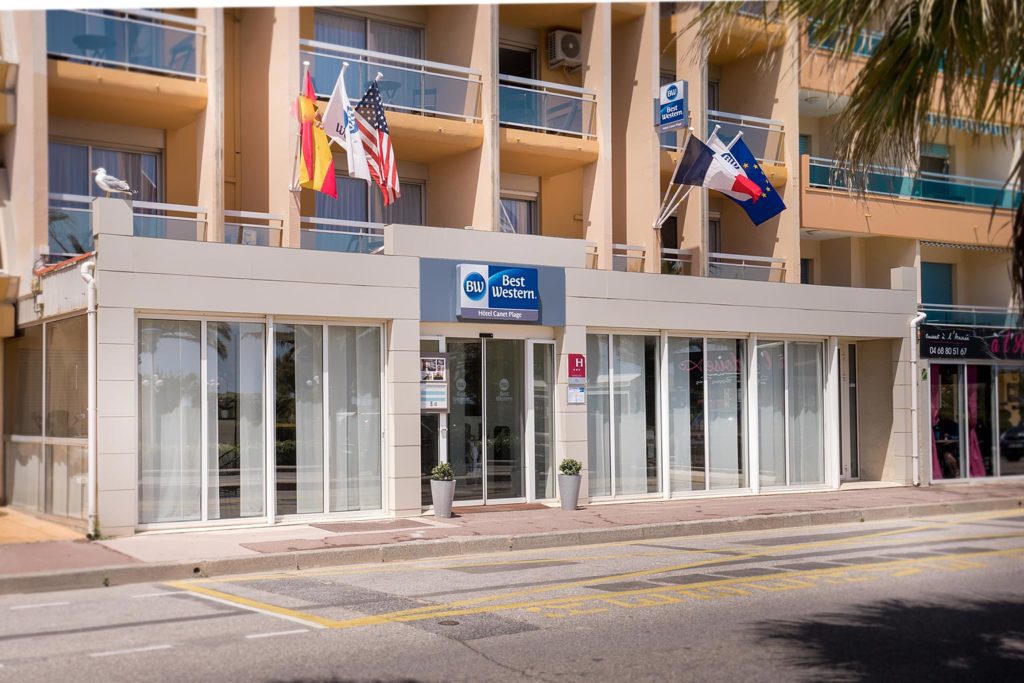 All rooms at this hotel are air-conditioned and equipped with flat-screen TVs, safes, luxury king-size bedding with comforters and anti-stress pillows. You can enjoy a cup of tea while admiring the view of the sea or lakes from the large balconies with the courtesy tray. For your convenience, a hairdryer, makeup mirror and Algotherm toiletries are included. Free Wi-Fi is available throughout the hotel. A bar and meeting room are also available.
The 24-hour reception will recommend a selection of gourmet addresses. For the more sporty, an outdoor gym is available free of charge all year round on the promenade in front of the hotel. A miniature golf course is located right in front of the hotel, and an 18-hole golf course is less than 10 km from the hotel in the town of Saint-Cyprien. The nearest airport is Perpignan Rivesaltes at 15 km.
With a stay at this Grand Large hotel, you will be 1 km from Canet beach and 10 km from Saint-Cyprien-Plage. At 15 km, you will also find Aqualand St Cyprien and St Jacques church.
Business Services
A bar/lounge and a 24-hour reception are offered at this hotel, as well as self-service parking. WiFi in public areas is free. Traveling on business? Take advantage of the 2 conference rooms, 24-hour business center and free Internet access in public areas.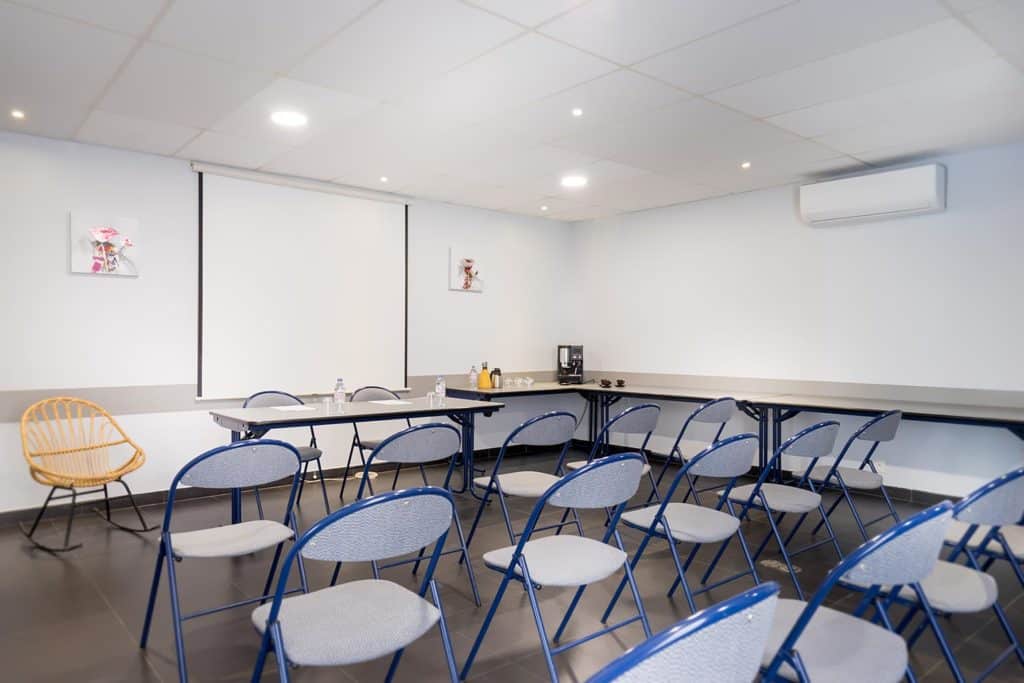 Free Internet, balconies
All 48 rooms have free WiFi and wired Internet access, LCD TVs with cable channels and balconies. Other amenities include 24-hour room service, minibars and espresso machines.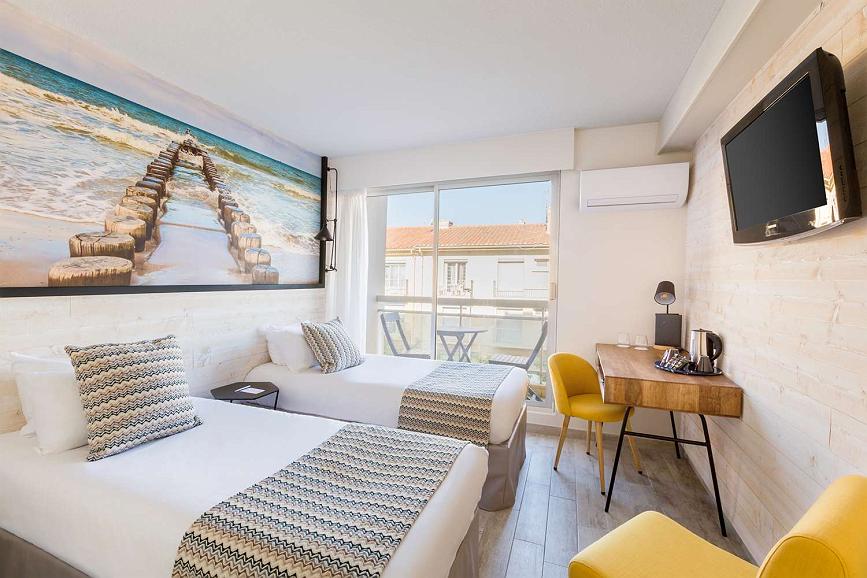 Hotel Features
There's a snack bar/deli on site. You can enjoy a drink at the bar/lounge. You'll find a 24-hour business center on site. A computer station is available on site, and WiFi and wired Internet access are free in public areas. Two meeting rooms are available. Multilingual staff, a gift shop/newsstand and concierge services are also available at the business-friendly Best Western Canet-Plage. Limited parking is available for a fee and is offered on a first come, first served basis. This 4-star hotel in Canet-en-Roussillon is non-smoking.
48 rooms or unit
Business center (24 hours)
Breakfast available (extra charge)
Dry cleaning service
Self-service laundry
Reception (24 hours)
Express check-in
Express check-out
Multilingual staff
Luggage storage area
Safe deposit box at the reception
Concierge
Gift store
Newspapers in the lobby (free)
Television in the lobby
Elevator
No smoking on site
Bar or lounge
Amenities for families
Free WiFi
Snack bar/deli
Laundromat
Internet
Available in all rooms: Free WiFi, Free wired Internet
Available in some public areas: free WiFi, free wired Internet
Parking
Private parking (paying) , Parking (limited spaces) , Free parking nearby
Transportation
Parking: Self-service parking available at an additional cost
Room Amenities
Best Western Hotel Canet-Plage offers 48 accommodations with minibars and espresso makers. Rooms open onto balconies. The 60-cm LCD TVs are equipped with premium cable channels. Bathrooms include showers and hairdryers. This Canet-en-Roussillon hotel offers free wired and wireless Internet access. Business amenities include desks, safes and phones. In addition, rooms include complimentary bottled water and coffee/tea makers. Housekeeping is offered daily and irons/ironing boards can be requested.
Private balcony
Minibar
Meals in room (24 hours)
LCD television
Cable channels
Premium channels
Espresso machine
Coffee maker
Shower
Housekeeping (daily)
Hair dryer
Safe deposit box
Telephone
Iron and ironing board available
Desk
Air conditioning
En-suite bathroom
Wheelchair accessible
Food and Beverage
For a fee, you can enjoy a buffet breakfast daily from 6am to 10:30am.
Room service is available 24 hours a day.

Nearby Activities
The recreational activities listed below are available on site or nearby; fees may apply.
Bicycle rental nearby
Ecotours nearby
Scooter/motorcycle rental nearby
Accessibility
If you have any requests regarding specific accessibility needs, please contact the property using the information on the booking confirmation received after booking.
Wheelchair accessible check-in desk
Wheelchair accessible parking
Wheelchair accessible (may have limitations)
Room Accessibility
Hotel Policies
Additional person fees may apply and vary depending on property policy.
Government-issued photo ID and a credit card, debit card or cash deposit may be required at check-in for incidental charges.
Special requests are subject to availability at the time of check-in and may incur additional charges; special requests cannot be guaranteed.
This property accepts credit cards and cash.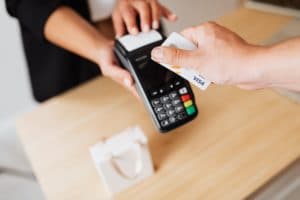 Please note that cultural norms and guest policies may vary from country to country and property to property; policies listed are provided by the property.
Additional guest fees may apply and vary depending on the property's policy.
A cash deposit, credit card or debit card for incidental charges and government-issued photo identification may be required at check-in.
Special requests are subject to availability at the time of check-in. Special requests cannot be guaranteed and may incur additional charges.
This property accepts Visa, Mastercard, American Express and cash. Enhanced cleaning and security measures are currently in place. Disinfectant is used to clean the property; frequently touched surfaces are cleaned with disinfectant between stays; linens and towels are washed at a temperature of at least 60°C/140°F. Social distancing measures are in place and guests are provided with hand sanitizer.
The property is cleaned with a disinfectant
Guests receive free hand sanitizer.
Staffed reception desk
Social distancing measures are in place
Property confirms that it implements enhanced cleaning measures
Temperature controls are not available to guests
Linens and towels are washed at a temperature of at least 60°C/140°F.
Frequently touched surfaces are cleaned with a disinfectant.
The establishment confirms that it implements safety measures for clients
Fees
Guests will have to pay the following fees to the property:
A fee is imposed by the city: 1,45 EUR per person per night
Optional extras
The fees and deposits listed below will be charged at the time of service, check-in or check-out.
Buffet breakfast fee: 16 EUR per person (approx.)
Self parking fee: 8 EUR per day
Pet fee: 15 EUR per pet, per night
This is not an exhaustive list. Fees and deposits are subject to change and may not include taxes.
Hotel names
Ibis Styles Canet Sud
Ibis Styles Canet Sud Hotel
Ibis Styles Canet Sud Hotel Perpignan
Ibis Styles Perpignan Canet Sud
Hotel Ibis Styles Perpignan Canet Sud
Mercure Canet En Roussillon
Ibis Styles Perpignan Le Canet Sud France/Canet-En-Roussillon
Best Western Canet Plage
Best Western Hotel Canet-Plage
Best Western Hotel Canet-Plage Canet-en-Roussillon
Best Western Canet-Plage Hotel Canet-en-Roussillon
Frequently asked questions
How far is the Best Western Hotel Canet-Plage from the city center of Canet-en-Roussillon?
The Best Western Hotel Canet-Plage is located at 0,5 km from Canet-Plage.
Does the Best Western Hotel Canet-Plage have a restaurant?
Best Western Hotel Canet-Plage does not have a restaurant on site. Nearby dining options include La Pate A Crêpe (7 minute walk), La Casalinga (9 minute walk), and La Siesta (9 minute walk).
Is parking free at the Best Western Hotel Canet-Plage?
Free parking is not available at this hotel. Self-service parking is available for EUR 8 per day.
How far is the Best Western Hotel Canet-Plage from the airport?
Best Western Hotel Canet-Plage is 12.2 mi (18 minutes drive) from Perpignan Airport (PGF-Perpignan – Rivesaltes Intl.), the closest popular airport to the property.
Does the Best Western Hotel Canet-Plage have a swimming pool?
The Best Western Hotel Canet-Plage does not have a swimming pool.
How far is the Best Western Hotel Canet-Plage from the beach?
This hotel is a 1-minute walk from Canet beach and 3.4 mi (6 minutes by car) from Saint-Cyprien-Plage. Don't forget your sunscreen!
Does the Best Western Hotel Canet-Plage have a spa?
There are no spa services available at this hotel.
Does the Best Western Hotel Canet-Plage offer a free breakfast?
Breakfast is not free at the Best Western Hotel Canet-Plage, but a buffet breakfast is offered for 16 EUR per person. It is available every day from 6:00 am to 10:30 am.
What is the check-in time at the Best Western Hotel Canet-Plage?
Check-in is from 3:00 pm to midnight.
Does the Best Western Hotel Canet-Plage have an airport shuttle?
Airport shuttle services are not available at the Best Western Hôtel Canet-Plage.
Is there a casino at the Best Western Hotel Canet-Plage?
No, there is no casino in this hotel, but the JOA Casino in Canet (10 minutes walk) and the JOA Casino in St-Cyprien (10 minutes drive) are nearby.
Comments from visitors
Wonderful stay

Great location and elegant boutique hotel. The staff was welcoming and very helpful. It is located at the quieter end of the boardwalk, so it is quiet. The rooms are very clean, as are the common areas. The individual reversible air conditioning was welcome.

We had a room with a sea view, which was very nice, especially when watching the bad weather coming. As it was December, we did not take advantage of the small balcony. We were a 10 minute walk along the beach, the main square and many restaurants. I would have given it a 5 but had two small concerns:

1 No real makeup mirror – I found it inconvenient to use the bathroom, especially since there was nowhere to plug in my hair straightener.

2 only two servings of milk but 4 servings of coffee. I know if I had gone to the front desk and asked, I would have had more, but I was comfortable in my fluffy white bathrobe.

I would definitely recommend this charming hotel and will return.
Relaxing at the BW Canet-Plage hotel

The BW Canet-Plage hotel is located in a very pleasant and quiet area, close to the seaside. Upon arrival at the hotel, it is easy to find a free parking space on the main road, a few steps from the hotel reception. From Carcassonne airport, it's an easy drive to the hotel (about 80 minutes). Check-in is very efficient and you get what you ordered. The room itself is very clean and very well appointed, including the bathtub and toilet. From the room, you have a beautiful ocean view (if you ordered an ocean view room, as you should). From the hotel, it's about a 60 second walk to the Balearic Sea for a nice, refreshing swim. All the staff are very sympathetic and helpful. Overall, we are very pleased with our stay this year, our second at BW Canet-Plage, and are already planning for next year.
Small, friendly and charming place

Wow, this hotel is the true definition of 5 star service. The staff is just wonderful. All smiling, so friendly and welcoming, nothing is too much to ask. Thank you all!

The hotel is very well located, with a beautiful and direct view of the beach of Canet and a small golf course right across the street. There are many restaurants and stores along the main street. Although it is a very busy area, our room was very quiet and we slept very well. As for the size of our room, yes, it was rather small but still nicely furnished and with a comfortable bed. We had our two very large suitcases on the floor and we could move around without being disturbed, so there was no problem with the size of our accommodation.

The sleeping comfort was very good. The rooms are air conditioned so we were able to set the right temperature for a pleasant atmosphere. We would also like to mention that our room was very clean thanks to the two ladies who worked there every morning. Overall, we really had a pleasant stay. The only suggestion would be to provide more TV programs in English. As there were only two non-French programs and the weather was bad, we would have liked to be able to watch TV and understand more  ;0).